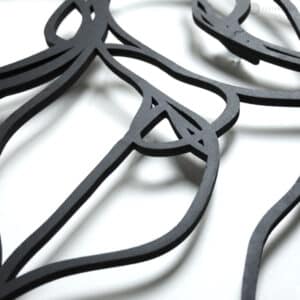 A petite version of the Respectful Lion Trophy, this mini "King of Beasts" wall sign offers a smaller alternative, still embodying all the lion's magnetism. Packing the same mighty ROAR as its larger version, in Lion King terms; we introduce Simba. Why not let a lion into the house and own a special piece of pro-wildlife wall art?
Each piece is delivered in its box, ready to be installed with the help of a custom-made fixing system.
Installation advice: In the box you will find everything you need to fix your wall piece, as well as advice on how to install it.
A system of powerful magnets facilitates the installation without visible screws on the surface, keeping the lightness and the refined style that the artist wanted to give to this creation, which will seem to float in front of your wall.
Shipped by parcel post in a secure package, unique and adapted to the size of the object without risk of breakage.